Fanga Dan
---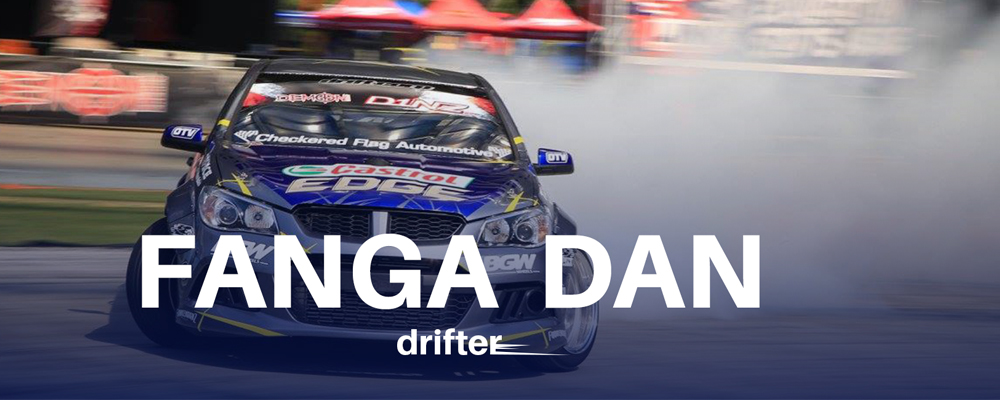 Daniel Woolhouse, also known as 'Fanga Dan', is a two-time D1NZ Champion and professional Drifting driver from Whangarei, New Zealand.
Growing up in Hastings around his fathers car yard sparked an automotive lifestyle at an early age.
Spending time on the yard washing and prepping cars for sale, Dan was surrounded by iconic Japanese vehicles synonymous with early drift culture - Nissan Skylines, Cefiros, Toyota Supras and Mazda RX7s to name a few.
At 10 years of age Dan would move north to Whangarei, and with a passion for rear wheel drive cars his teenage years saw plenty of vehicles in his ownership, repairing and selling a range of JDM vehicles for income.

By the early 2000's drifting was rising from the underground into a professional motorsport and, after following the culture and competitions in Japan, Dan and 7 others would go on to form New Zealand's first drift team, Driftcorp.
Driving for Driftcorp (the now iconic 7-championship winning team) he began drifting competitively in 2003, entering his first full season in 2005 driving an RB26 powered Nissan Laurel C33 in the D1NZ National Drifting Championship,
finishing 3rd overall in his rookie year.
Earning the nickname "Fanga", he would move to a purpose built Nissan S15 Silvia which went on to win the 2006 D1NZ Championship in just his second year of full competition, also becoming the third Driftcorp driver to win a national title.

---
Fanga Tests his new 2017 Ford Mustang RTR Spec 5-D
Yesterday we had our first shakedown in the Ford Mustang RTR at Hampton Downs.
This was my first time drifting a Left-Hand drive car, I adapted well to the change. The car went extremely well.
Like all new builds, we came across a few teething issues that we need to iron out. I'm confident with more testing CTB Performance will have the car dialed 100%.
I'm really looking forward to Mad Mike's Summer Bash this weekend, taking on NZ's best drifters, I hope to see you there!
To my brand partners, thank you for the support!

Fanga Releases his 2017 Ford Mustang RTR Spec 5-D
We caught up with Fanga Dan at Big Boys Toys 2017 as he released his brand new 2017 Ford Mustang RTR Spec 5-D.
Check out the video below!